Cédric Grolet, winner of the World's Best Restaurant Pastry Chef 2017 -

In 2016, Cédric Grolet was named Best Pastry Chef in the Prix d'Excellence Relais Desserts. A year later, he added a new award: the Valrhona Award for World's Best Restaurant Pastry Chef 2017, awarded by the Les Grandes Tables du Monde Association, and created in 1954 by six restauration friends in defense of culinary heritage.
A jury composed of Jean-François Piège, Pierre Hermé, Denis Courtiade, director of the restaurant Alain Ducasse in Place Athénée, and Catherine Roig, director of the magazine Version Femina, has unanimously decided to recognize the unmistakable talent of the pastry chef of Le Meurice Alain Ducasse (Paris).
Cédric, who has just released his long-awaited book, Fruits, is one of the most popular pastry chefs in France. His commitment to easy and recognizable flavors, perfect executions, and spectacular finishes are the keys that define his style.
The post Cédric Grolet, winner of the World's Best Restaurant Pastry Chef 2017 appeared first on so good.. magazine.
A showcase of international chefs at Europain's Intersuc Lab
-
Paris is preparing to host a new edition of Europain from February 3 to 6, 2018. A renovated fair with noticeable changes in its duration, from four to three days, and new space distribution.
Visitors will be able to attend professional pastry, chocolate, bonbon making, and ice cream demonstrations at the Intersuc Lab, a space where some of the most outstanding international chefs will share techniques, creativity, savoir faire, and their latest recipes. Among them are Bastien Girard and Jean-Thomas Schneider, winners of the 2017 Coupe du Monde de la Pâtisserie; Cyril Gaidella, winner of the Championnat de France du Dessert 2017 in the professional category; Enzo Franzi, winner of the Championnat de France du Dessert 2017 in the junior category; Jérémie Runel, co-founder of La Fabrique Givrée (so good #14); Jérémy del Val, creation chef of the Dalloyau pastry shop and French champion of desserts in the "professionals" category, and MOF Stéphane Glacier.
The Intersuc Lab is just one of the many activities that will be carried out during the fair:
Forum: conferences, interviews and round table discussions on current topics of the different trades of the industry.
Boutique restaurant: operational and ephemeral bakery-restaurant, equipped with innovative technologies, where visitors will have the opportunity to observe and taste all the possibilities of bakery restauration.
Lab du Boulanger: uninterrupted bakery demonstrations thanks to a fully open oven.
Lab Bien-être et Naturalité: laboratory that gathers all the proposals that respond to the consumers of today who take care of their well-being and the balance of their consumption.
Sens & Chocolat Festival: demonstrations, mini-conferences, tasting of cocoa beans and high-end chocolates.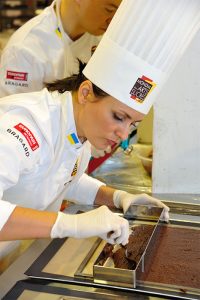 Photo: Altiphoto
Europain, as usual, will be the scene of three competitions: the 6th French Schools Cup, which this year proposes as a theme "Luxury a la French, Female. Male", Masters de la Boulangerie , in which 18 candidates from around the world will face off to win the prestigious World Master Baker title and the Mondial des Arts Sucrés, during which 32 candidates from 16 different countries and divided into 16 teams of two, a male and female chef, will have 19 hours to make a plated dessert, a small individual ice cream, a dessert, two types of sweets, a sugar piece, a chocolate piece, and a display of sweets and sugar.
In 2018 the organization also wants to highlight the novelties presented in the show and to place value on the most innovative through two new awards. On the one hand, the Novelty Award, which will distinguish the new products that present the most outstanding benefits. On the other hand, there is the Visitors Award, granted by the attendees themselves.
The post A showcase of international chefs at Europain's Intersuc Lab appeared first on so good.. magazine.
Lior Shtaygman to showcase his Israeli pastry revamp in London
-
Lior Shtaygman, the protagonist of the cover of so good #18, will make a demonstration of contemporary Middle Eastern & Mediterranean pastry on Monday, November 6 at the premises of one of our distributors, Home Chocolate Factory (London).
The head of the Danon training center in Tel Aviv (Israel) will teach two of his recipes published in the magazine to a very small group of six people. Pieces where the raw material shines through and are a good example of his fresh, "less tacky and decorated", style.
The post Lior Shtaygman to showcase his Israeli pastry revamp in London appeared first on so good.. magazine.
Shattell and Tobago-Pralus, on the podium of the International Chocolate Awards
-
Last Friday, October 13, the name of the winners at the International Chocolate Awards 2017 were announced at the Chocolate Show London.
The 'Best in competition' overall winners have been the artisan factory Shattell Chocolate (Peru) in the Plain / origin dark bar category for Chuncho 70%; and the Swedes Tobago Estate Chocolate in collaboration with François Pralus, for Laura, the best rated in the Plain / origin milk bar category.
In the list of winners there is representation from almost all the countries: Ecuador, Denmark, the United States, France, Canada, New Zealand, Australia, Mexico, the United Kingdom, Iceland, Venezuela, Colombia, Taiwan, Brazil, Hungary, Germany, Italy, Switzerland, Argentina, Finland, Belgium, South Africa, and Japan.
As in the previous edition, our Japanese collaborator Susumu Koyama has been one of the winners, obtaining gold, silver, and bronze medals in numerous categories.
The post Shattell and Tobago-Pralus, on the podium of the International Chocolate Awards appeared first on so good.. magazine.
Upcoming bakery events: the Coupe d'Europe and the Mondial du Pain
-
In the coming weeks, two unforgettable bakery competitions will be held in Nantes within the framework of the trade show Serbotel, a meeting point for catering professionals, hospitality and food: the 19th Coupe d'Europe de la Boulangerie Artisanale and the 6th Mondial du Pain.
On Sunday October 22, the Coupe d'Europe de la Boulangerie Artisanale will take place, organized by the Fédération des Boulangers de Loire-Atlantique. Under the theme "Tales and legends of your country", the competitors will have to make an artistic piece with a maximum dimension of 80 x 80 x 80, plus a basket with six varieties of bread and a tray with 6 types of viennoiseries, with different shapes and compositions in both cases. Originality, creativity and efficiency will be valued. The countries that will compete are Belgium, Denmark, Spain, France, Italy, Netherlands, and Portugal.
On Monday 23 and Tuesday 24 October, 17 teams from five continents (Algeria, Belgium, Brazil, Canada, China, Ivory Coast, France, Germany, Italy, Japan, Mali, Netherlands, Peru, Philippines, Taiwan, and the United States) will weigh their forces before an international jury to win the 6th edition of the Mondial du Pain (Bread World Cup), which aims to reflect the profession's ability to adapt to the current demands of consumers. Each team, consisting of a candidate with at least 5 years' experience and an assistant under the age of 22, will have 9 hours to make bread from around the world, a prestigious viennoiserie, an art piece, a balanced sandwich, bread from organic products, and nutritious bread. Although only one will win the competition, six special prizes will be awarded: International Trophy of Ambassadors, "Flavor and Nutrition" Special Prize, Best Assistant Prize, Bio Special Prize, Viennoiserie Special Prize, and Special Artistic Prize.
The post Upcoming bakery events: the Coupe d'Europe and the Mondial du Pain appeared first on so good.. magazine.
Six elite pastry chefs to compete at the Valrhona C³ North American Finals
-
In three weeks some of the most talented pastry chefs, with businesses located within the United States and Canada, will participate in the Valrhona C3 North American Finals, which will take place on October 23 on the main stage of the 12th Annual StarChefs International Chefs Congress at the Brooklyn Expo Center.
A selection committee, made up of representatives of l'École Valrhona and StarChefs, has chosen, after an arduous selection process, six competitors and three alternates.
Competitors:
Curtis Cameron. Acacia House by Chris Cosentino. St. Helena, CA
Giane Cavaliere.Volt Restaurant. Frederick, MD
Christian Lai Chun. Pacific Institute of Culinary Arts. Vancouver, Canada
Thao Nguyen. Gray Eagle Casino & Resort. Calgary, Canada
Mine Pizarro. L'Appart. New York, NY
Lok Hin Yam. Madera at The Rosewood Sandhill Hotel | Menlo Park, CA
Competition Alternates:
Stephanie Duong | Roselle Desserts | Toronto, Canada
Christina Mercado | Newport, RI
Jordan Neal | Four Seasons Hotel Westlake Village | Thousand Oaks, CA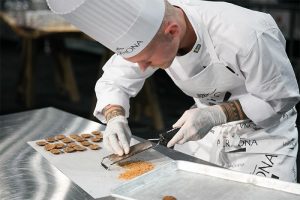 Fredrik Borgskog, winner of the C3 International Competition 2016
Candidates will have to produce a plated dessert based on Valrhona's "Oriado 60% (Peru and the Dominican Republic)" and a petit four based on the chocolate "Waina 35%." They will be evaluated by a prestigious jury formed by Pierre Hermé, Ghaya Oliveira, and Johnny Iuzzini, among others, who will value the originality of the recipe, flavor, association of flavors, texture, aesthetics, and incorporation of competition theme.
The winner will not only be awarded 4,000 € and an exclusive Valrhona trophy, but will also have the opportunity to represent North America during the C3 2018 International Finale. The winner of the second prize and the press jury will receive 1,000 Euros.
The post Six elite pastry chefs to compete at the Valrhona C³ North American Finals appeared first on so good.. magazine.
John Shields & Karen Urie Shields. It Takes Two
-
It takes guts to end an elaborate 8-course tasting menu with a bowl of vegetable 'pate de fruits.' But, then again, the meal at Smyth, a tasting menu-only restaurant in Chicago's West Loop, began with a small cup of funky maitake mushroom tea adorned with a bare twig.
Offering dishes that nudge—or push, as the case may be—diners out of their comfort zones is nothing new for husband-and-wife chefs John Shields and Karen Urie Shields, who between them, have some 30 years of culinary experience, including at Alinea and Charlie Trotter's. It was at the latter that John and Karen—he as sous chef, she as head pastry chef—first met.
Text: Lisa Shames
Photos: Galdones photography
In 2008, the couple turned down an offer to open a Trotter restaurant in Las Vegas, and instead headed to Smyth, a small county in Virginia, where their cooking at Town House and then Riverstead Inn earned them national acclaim as well as some valuable insight. "It allowed us to figure out who we were as young chefs and what drove us," says Karen. The couple's unique point of view is all over Smyth, which opened late last year, from the midcentury-modern furniture and wide open kitchen to the beautiful dishes coming out of it.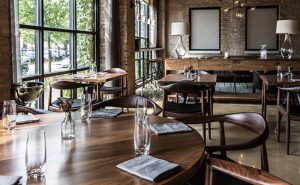 While it's hard to find a chef who doesn't find inspiration in the seasons, the Shields take it even further via a relationship they have with a 20-acre Illinois farm (The Farm) growing an extensive variety of produce exclusively for Smyth, as well as The Loyalist, the casual lounge downstairs. "We want to give guests an experience of what is happening day to day on the farm," says John. "You can definitely taste the difference." In addition, there's an indoor garden at the restaurant as well as herb and flower beds outside.
The couple also finds inspiration in each other. "It helps that I have my hands in pastry a lot and she throws her thoughts my way on savory," says John. What that means for diners is a seamless flow from course to course with no real separation between the desserts and the savory courses that came before them. "If it's the first dessert course, we like it to border on savory to lend to that liaison between the savory courses," says Karen. "If it's the last, we like it to be bright, acidic and palate cleansing, which aids in digestion."
''We want to create memories. We want people walking away saying, I'm never going to forget that''
That collaboration and similar philosophy on food—"We like to pull flavors out and make them intense, but all the while portray a seemingly minimal aesthetic," says Karen—has led to some interesting and delicious dishes. A few years back a spring onion and rhubarb dessert earned fans, as did a vegetable and fruit gazpacho paired with a giant meringue of sorts in which Karen swapped in an olive-oil based batter. On the current menu, there's the ingenious savory brioche doughnut cooked in aged beef fat that's served halfway through the meal. A milk chocolate bar made with fermented shiitakes and huckleberries follows the final meat course. "The shiitakes are sweet and earthy, which is a great liaison between savory and desserts courses," says Karen, "while the huckleberries are bright and acidic, which cuts through the rich flavors."
But perhaps the dessert that's earned the most buzz—and reluctance of the couple to release its recipe—is the egg yolk cured in salted licorice and served with yogurt meringue. While John and Karen have been tinkering on the dish for years, it wasn't until they just started working with The Farm prior to opening Smyth that the now signature dish was created. "The only thing coming from them in late March was eggs," says John. He switched from the dish's original savory slant and opted for sweet. The egg yolk is cured for 24 hours in black licorice molasses until it has a dense texture. Leftover egg whites are thrown in a Pacojet and transformed into a delicious, tangy concoction. There's a bit of crumb on the bottom of the bowl and a touch of blackberry jam.
With this dish, and all the others at Smyth, it's important "the menu in its entirety takes guests on a storytelling voyage," says Karen. Adds John, "We want to create memories. We want people walking away saying, I'm never going to forget that."
You will find these creations with recipes at so good #18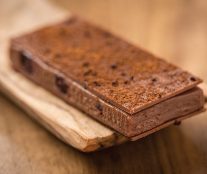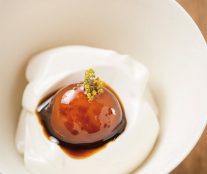 The post John Shields & Karen Urie Shields. It Takes Two appeared first on so good.. magazine.
The "Chaise de SAB" in chocolate in the Maison LAC
-
Since September 29, the people of Nice now have a chocolate version of the famous "Chaise de SAB" by Sabine Géraudie in Pascal Lac's four boutiques.
This chair, one of the most photographed works on the Riviera and a symbol of Nice, now has a flavor of 68% Caribbean dark chocolate and toasted and caramelized chopped almonds. The master chocolatier wanted to pay homage to the city by, "giving a new look to this blue chair that had fallen into oblivion."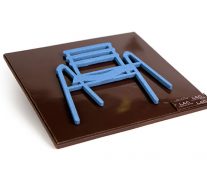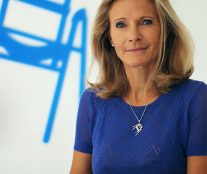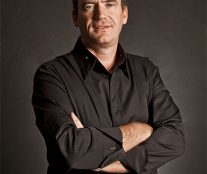 The post The "Chaise de SAB" in chocolate in the Maison LAC appeared first on so good.. magazine.
"Sweet Devotion", bringing back prestige to viennoiserie
-
Daniel Álvarez (Dalua, Elche) is one of Spain's best exponents of the resurgence that viennoiserie specialties are going through in pastry. A resurgence that has to do, as he himself comments, with a return to the origins, and a taste for lifelong, well-made products. Although in recent years many of these specialties had been relegated to price wars where quality was not as important, today more than ever many professionals have found in them the way to distinguish themselves and gain followers.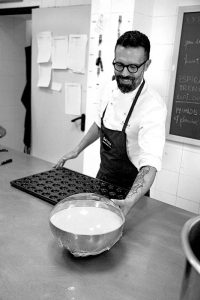 Daniel Álvarez's millefeuille, croissant, or panettone have become great little gastronomic gems that are increasingly appreciated, not only by those living close to Dalua, but also by professionals from all over the world who come to the courses he teaches, eager to learn. That is why, alongside Grupo Vilbo, Daniel Álvarez has been working on a book that now comes to light with the title Sweet Devotion, a modern vision of artisan bakery.
In this book, he takes an exhaustive look at two great families of products: the puffed pastry doughs and the brioche doughs. Daniel's concern, who also explains the success of his courses, is not to stay alone in a recipe. Bakery products actually have a very simple appearance, since they are made with very few ingredients. Its complexity resides in the creation process and in the many variables that can affect a correct development, from the kneading until the cooking, to obtain an optimum result.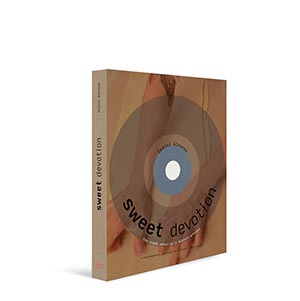 Signature bakery products are also possible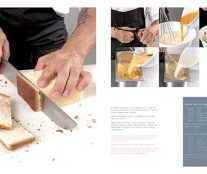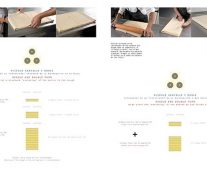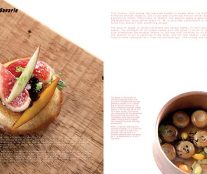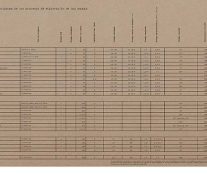 From the different lamination techniques, the aspects to be taken into account for the manipulation of a fat as noble but delicate as butter, to endless step-by-step instructions with which to acquire an adequate notion of each dough, each shape, of every creation process, Sweet Devotion is detached from other manuals by the zeal its author has put in the explanations. It also reveals the keys that allow you to personalize a product such as the Neapolitan or the puff pastry band, the kouglof, the savarin or the bostock, and thus take it to an artisan philosophy, more intertwined with a business of proximity.
 
Glutinous mesh and fermentation
In the part dedicated to the brioche doughs, the author expands on the keys to reaching a good kneading in function of the wanted result. Aspects such as the integration of butter, the achievement of a glutinous mesh with adequate parameters of elasticity, the suitability of using a dough and a type of fermentation, are analyzed and explained in detail. The objective is to provide the reader with the key tools so that they can make their own way in each of these products.
The book reviews the main specialties of each family, whether we are talking about croissants, puff pastry, brioche, or panettone, in addition to displaying all kinds of formats and variants. It goes into products as characteristic and emblematic as the aforementioned panettone, the kouglof, the doughnut, or the kouign amann, as well as dedicating an important part of its pages to local products such as the roscón de reyes, the ensaimada, magdalenas, or cremadets.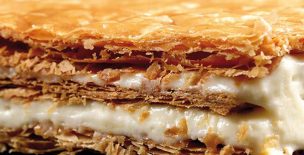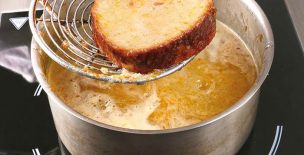 The result is a book of more than 250 pages, with hundreds of photos and in which each recipe is accompanied by comments, tricks, tips and concepts that aim to encourage personal judgment without losing sight of the fundamental notions of the development of all these products.
The post "Sweet Devotion", bringing back prestige to viennoiserie appeared first on so good.. magazine.
The jury for the Masters of the Boulangerie also "trains"
-
The 18 candidates for the next Masters de la Boulangerie, to be held at Europain in February 2018, will have to defend their pieces orally before a demanding and balanced jury formed by Johan Sorberg (Sweden), Wayne Caddy (Great Britain), Moïses Carmona (Costa Rica), Josep Pascual (Spain), Josef Schrott (Austria), and William Wongso (Indonesia).
These six professionals, who have a high level of experience, open-mindedness, and great knowledge in the three specialties that will be developed during the competition (Nutritional Bread Making, Gourmet Baking, and Artistic Bread Making), will not only evaluate the candidates in level of expertise, but also their ability to drive new trends, since creativity and innovation are at the heart of this competition.
Sorberg, as president, has four months to infuse the other five members with the spirit of the competition and prepare them to select the three 2018 World Master Bakers.
The post The jury for the Masters of the Boulangerie also "trains" appeared first on so good.. magazine.